18/02/2022
Tunnel to Freedom and Prosperity: Side Effects of the Transition to Democracy
Discussion with Kristina Andělová and Marek Mikuš
18 February 2022, 6 pm
tranzit.sk, Beskydská 12, Bratislava

The event is open in OP mode until the capacity of the space is reached.

It will be held in Slovak and Czech.

Moderated by Dušan Barok and Ivana Rumanová

The winning narrative was clearly formulated in the first moments of breaking the Iron Curtain. In the summer of 1989, Francis Fukuyama described the fall of communism lavishly as a post-historical synthesis of Cold War counterparts into "Western liberal democracy as the ultimate form of government." Free citizens were challenged to fulfill their moral duty and learn to act according to the rules of liberal democracy and the free market. Octavian Eşanu has named this social imperative, cultivated since the 1990s, transitology — the doctrine of transition. It is "a hegemonic discourse that filled the ideological vacuum once occupied by Marxism-Leninism in the post-Soviet space."

According to Boris Buden, we accepted democracy as an ahistorical ideal, in black-and-white opposition to totalitarianism. This ideal legitimized new, freely chosen forms of oppression. Buden speaks of the Western form of democracy as colonial, the functioning of which presupposes the presence of neoliberal capitalism. Western triumph in the Cold War created the impression that this version was the only and eternal one. It corresponds to the West's post-historicity, while the history of the East is chronically lagging behind. Post-communist countries must constantly catch up with the democratic ideal, but their submission to global capitalism is absolute.

The "backward" countries became a laboratory for radical and drastic neoliberal experiments that would have been unthinkable in Western Europe, where reminiscences of the welfare state were still surviving. Wild privatization and casino capitalism were accompanied by violence, corruption, unemployment and suicide, framed as the inevitable toll or childhood illness of young democracies. Market liberalism reduced human rights to economic freedom, and the neoliberal agenda gave vent not only to chauvinism but also to nationalism and xenophobia.

Two decades later, the financial crisis created the space for the critique of the negative side effects of neoliberal hegemony to be appropriated by authoritarians. In Hungary, Viktor Orbán managed to popularise the association of neoliberalism with the left-liberal coalition, the dictate from Brussels and "German economic colonialism", paving his way to power and establishing himself as an inspiration for reactionary forces in other countries. But economic commentators believe that he himself is implementing an authoritarian version of neoliberalism.

Are we really in a situation in which the endless catching-up with the West in our region has turned into a cultural demarcation against it, but with no alternatives in sight? Why does the frustration and anger of a large part of the population translate into a rejection of liberalism on a political and cultural level, but neoliberalism remains untouched and out of the sight? Was there a possibility in the 1990s that things would have turned out differently?
Kristina Andělová (1987) is a historian. In 2021, she completed her dissertation at the Faculty of Arts of Charles University on the political thought of Czech reformist communism in the 1970s and 1980s. She works as a research associate at the Institute of Contemporary History of the CAS and teaches at the Faculty of Arts of Charles University. She specializes in post-war intellectual history, the history of left-wing political thought and Czech dissent. She is a co-founder of the international research platform Intellectual History in East Central Europe. As an editor and contributor to the international anthology One Day Something Will Rebel in Our Green Grocer: Essays on the Power of the Powerless (2016) and the collective monograph Six Chapters on Dissent (2017).

Marek Mikuš (1984) is a social anthropologist of political and economic life in contemporary Eastern and South-Eastern Europe. He was born in Bratislava, grew up in Trnava, studied in Prague and London, where he received his PhD from the London School of Economics. He worked as a postdoctoral fellow at the Max Planck Institute for Social Anthropology in Halle and at Trinity College Dublin. As of 2019, he leads the research group "Peripheral Debt: Money, Risk and Politics in Eastern Europe" at the Max Planck Institute, which examines household debt in Croatia, Hungary, Poland and Slovakia. His doctoral research focused on civil society, the state and reform in Serbia and resulted in the monograph Frontiers of Civil Society: Government and Hegemony in Serbia (Berghahn Books, 2018). In recent years, he has mainly researched household and individual finance in Croatia and, more recently, in Slovakia. Together with Petra Rodik, he compiled a volume on household financialization in Southern and Eastern European semiperipheries (Routledge, 2021). In terms of theory, his work is mainly inspired by materialist and pragmatic approaches in anthropology and interdisciplinary dialogue with economics, geography and sociology.

Photo: Leontína Berková


Event is part of the exhibition project We Have Never Been Closer currently running at tranzit.sk.

ERSTE Foundation is main partner of tranzit. Supported using public funding by Slovak Arts Council.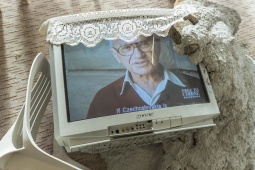 Related
We Have Never Been Closer