21/09/2022–27/01/2023
I as it, or stones that vibrate
Exhibition at tranzit.sk
Artists: Goda Palekaitė & Adrijana Gvozdenović, Rachel Pimm & Graham Cunnington, We Work in the Dark (Luiza Prado de O. Martins & Obaro Ejimiwe)

Curated by Anna Santomauro & Laura Clarke (Arts Catalyst)

Exhibition architecture: Matej Gavula
Graphic Design: Sándor Bartha

21.09. – 16.12.2022 --> prolonged until 27.1.2023

Artists' talk / Performance: Anthropomorphic Trouble by Goda Palekaitė with Adrijana Gvozdenović, 21 September 2022, 5:30 p.m.

Opening: 21 September 2022, 7 - 9 p.m.

Venue: tranzit.sk, Beskydská 12, Bratislava
Open: Tuesday – Friday: 2:30 – 6:30 p.m.


What matters matter? How does matter circulate within, around and through bodies? What kinds of interactions, metabolisms and exchanges does matter participate in?

I as it, or stones that vibrate brings together three collaborative artist projects, each developed in dialogue with a particular landscape and the more-than-human forces that continue to bring it into being.

Currents, minerals, molecules, rhizomes are active agents, exerting forces that shape cultural forms, histories and politics — as political theorist Jane Bennett puts it in Vibrant Matter, they are "themselves powerful, material assemblages with resistant force."

In the works presented in the show, this resistant force — the agency of matter — emerges as a political actant in different ways: through unsettling encounters with organic and inorganic matters ingrained in rocks, sounds of leaking iron particles intoxicating rivers that turn orange, and eroded pebbles on a beach revealing traces of concealed military histories.

The exhibition attempts to evoke a somatic conversation between multiple actants, including water, rocks, magnetic fields, and iron – around their own agency and the kinships, animacies and conflicts that they instigate.
The works in the exhibition are:

Anthropomorphic Trouble (2021)
Goda Palekaitė & Adrijana Gvozdenović

Acknowledging the Earth as a historical character, learning from cosmologies and ecologies, and acting as amateur storytellers, Goda Palekaitė and Adrijana Gvozdenović's Anthropomorphic Trouble traces their journey from their trouble, from incomprehensibility, through a landscape of associative thinking.

The research started in their heads situated in Brussels, later travelled to places like the Jurassic coastline and Abbotsbury Swannery in Dorset, Arts Catalyst's office in Sheffield, Nikola Tesla's museum in Belgrade, at Delfina Foundation and Whitechapel gallery in London, various museums of natural history, zoos and aquariums throughout Europe, a mammoth grave in rural Serbia, and the Montenegrin mountains.

The journey is inspired by three historical women: Mary Anning (1799-1847), a self-taught pioneer of palaeontology who discovered the first intact skeletons of dinosaurs at the age of 12; Anna Atkins (1799-1871), a botanist who worked with the cyanotype technique to collect and archive British algae, developing what is today known as the first book of photography; and Margaret Cavendish (1623-1673), a feminist avant-garde science-fiction writer and post-humanist philosopher from the Baroque era.

In the exhibition space of tranzit, the project is presented in its new iteration, sharing research, stories, artefacts and artworks within a spatial installation. On the opening night, Palekaitė and Gvozdenović will guide the audience through Anthropomorphic Trouble in an artists' talk.


What kind of river has no middle? (2022)
We Work in the Dark (Luiza Prado de O. Martins & Obaro Ejimiwe)

What kind of river has no middle? Is a new sound work and installation by We Work in the Dark (Luiza Prado de O. Martins & Obaro Ejimiwe), developed in collaboration with the Slana river.

In 2019, the Brumadinho Dam disaster caused catastrophic loss of life and environmental damage in Minas Gerais State, Brazil. The dam contained the tailings — byproducts of mining operations — of a nearby iron ore mine; the toxic mud spilling from the dam changed the course of bodies of water, and affected water supply in the region. Recently, water leaking from an abandoned iron ore mine near the Slana river in Slovakia caused extensive environmental damage to the surrounding areas; a repeating pattern emerging through contaminated, orange waters.

This sound installation evokes the processes of manipulation, vibration, and redirection of bodies of water and minerals implicated in iron ore mining. A container filled to the brim with water stands directly over a speaker emitting deep bass frequencies. The bass agitates a layer of orange sludge at the bottom of the container, occasionally mixing it with the rest of the liquid; a perpetual threat of spillage.


an earshare / to cassay the earthcrust (2021)
Rachel Pimm & Graham Cunnington

an earshare / to cassay the earthcrust is a collaboration between artist Rachel Pimm and Graham Cunnington, founding member of the industrial music collective Test Dept. A work in two parts, an earshare / to cassay the earthcrust considers the matter and antimatter of the pebbles that make up the shingle landscape of Orford Ness, a former military testing site on England's south coast that has been repurposed as a nature reserve. Each pebble conceals and absorbs impact, holding a history of ordnance debris as well as its own geological past.

Pimm and Cunnington's video and audio work emerges from the environment of Orford Ness, but points to its repercussions. In the work, a pebble is simultaneously instrument and transmission, both an object and a wavelength. Granular sound data and the logic of quantum physics frame the shingle as a non-complicit agent in military history. As the buildings re-wild, and the nature reserve greenwashes its military past, concrete targets reject salty deposits, crying and sweating geology. The 'impact' of the remote pebble can be felt as both material and immaterial debris dispersed unlimitedly in other locations.

ERSTE Foundation is main partner of tranzit.
Supported using public funding by Slovak Arts Council.
The project has been kindly supported by Goethe-Institut Slovakia.

Media partners:
Artalk.sk, Flash Art CZ & SK, GoOut.net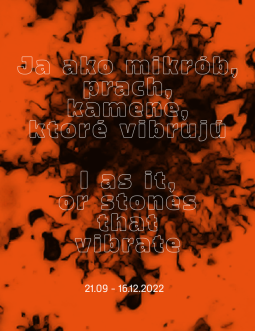 Credit: Original image taken from 'an earshare / to cassay the earthcrust part 1' courtesy of Rachel Pimm & Graham Cunnington, with a graphic treatment by Sandor Bartha
Related
an earshare / to cassay the earthcrust
Anthropomorphic Trouble
What Kind of River Has No Middle?


Downloads
I_as_it_leaflet.pdf (pdf, 490 kb)