21/09/2022
Anthropomorphic Trouble
Artists' talk /performance by Goda Palekaitė & Adrijana Gvozdenović
September 21, 5.30 pm, tranzit

After the performance will be opening of exhibition I as it, or stones that vibrate.
Event will be held in English

Anthropomorphic Trouble is a collaborative project initiated by Goda Palekaitė and joined by Adrijana Gvozdenović.
Acknowledging the Earth as a historical character, learning from cosmologies and ecologies, and acting as amateur storytellers, Palekaitė and Gvozdenović begin their journey from their trouble, from incomprehensibility, through a landscape of associative thinking. Facts, speculations, fictional stories, dreams, and opinions have always been squeezed together into dense sediments of truths.

In the exhibition I as it, or stones that vibrate in tranzit, the project is presented in its new iteration, sharing research, stories, artefacts and artworks within a spatial installation. On the opening night, within an artists' talk, Palekaitė and Gvozdenović will guide the audience through the structuring process of Anthropomorphic Trouble, activating some of its performative elements.
Goda Palekaitė (Lithuania/Belgium) is an artist working at the intersection of contemporary art, performance, artistic research, literature, and anthropology. Her practice evolves around projects exploring politics of historical narratives, agency of dreams, and conditions of creativity. Her recent solo shows were opened at Kunsthal Gent in Ghent / Editorial in Vilnius ("The Strongest Muscle in the Human Body is the Tongue" 2021), Centre Tour à Plomb in Brussels ("Architecture of Heaven" 2020), Konstepidemin in Gothenburg ("Liminal Minds" 2019) and RawArt Gallery in Tel Aviv ("Legal Implications of a Dream" 2018). In 2020 she published her first book of fiction "Schismatics" and began a Ph.D. at Hasselt University in Belgium.

Adrijana Gvozdenović (Montenegro/Germany) employs artistic methods to create ambiguous distinctions between practice and theory, theory and confession, documentation and production, artistic and curatorial, oral exchange and artistic form. From 2017 to 2020, she has been an associate researcher at a.pass Brussels and Royal Academy of Fine Arts Antwerp. Her most recent works and artistic engagements are realised through close collaborations: co-curating and mentoring for the postgraduate program "Not in the mood" (a.pass, Brussels), research project "Anthropomorphic Trouble" (Arts Catalyst, Sheffield and Whitechapel Gallery, London), exhibition "This situation has developed over a long time" (ŠKUC Gallery, Lju- bljana), video work "Water made to move" (SCHUNCK, Heerlen), apple jam edition and online publication "Between anxiety and hope," card-reading performance "7 anxieties and the world" (Glasmoog Cologne, GMK Zagreb, CIAP Hasselt).

ERSTE Foundation is main partner of tranzit.
Supported using public funding by Slovak Arts Council.
The project has been kindly supported by Goethe-Institut Slovakia.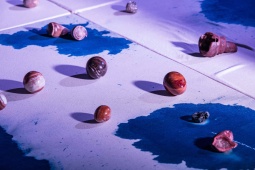 Photo by: Katarzyna Perlak.
Related
I as it, or stones that vibrate