25/10/2022
What Kind of River Has No Middle?
Online artists' talk by We Work in the Dark (Luiza Prado de O. Martins & Obaro Ejimiwe)
October 25, 2022, 6 pm
Facebook online

Event will be held in English

Artists' talk is part of the exhibition I as it, or stones that vibrate.

In 2019, the Brumadinho Dam disaster caused catastrophic loss of life and environmental damage in Minas Gerais State, Brazil. The dam contained the tailings — byproducts of mining operations — of a nearby iron ore mine; the toxic mud spilling from the dam changed the course of bodies of water, affected water supply in the region, and destroyed multiple local communities. In Nigeria, the wetlands in Isoko land – located in the southern Delta state – show significant iron contamination stemming from anthropogenic activity. Recently, water leaking from an abandoned iron ore mine the Slana river in Slovakia caused extensive environmental damage to the surrounding areas; a repeating pattern emerging through contaminated, orange waters.
In this artist talk,We Work In The Dark (Luiza Prado and Obaro Ejimiwe) discuss the creation of the piece "What Kind of River Has No Middle?", and explore their perspectives and relationships to waterways, pollution, and decolonial futures.
We Work in the Dark is Luiza Prado de O. Martins & Obaro Ejimiwe.

Luiza is an artist, writer, and researcher investigating plant-human relations, reproduction, herbal medicine, and radical, decolonising care. She is an assistant professor and vice-director of the Centre for Other Worlds, Lusófona University (Portugal).

Obaro is a visual artist and musician whose work examines themes around African spiritualism, colonisation, masculinity, identity and Black joy. In his music career, he has released five studio albums as Ghostpoet.


ERSTE Foundation is main partner of tranzit.
Supported using public funding by Slovak Arts Council.
The project has been kindly supported by Goethe-Institut Slovakia.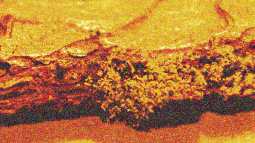 Water research image (2022). Courtesy of We Work in the Dark (Luiza Prado de O. Martins & Obaro Ejimiwe)
Related
I as it, or stones that vibrate