09/05/2023
Saodat Ismailova: 40 Days of Silence
Film screening
May 9,2023 at 6:00 p.m.
venue: tranzit sk, Beskydská 12, 81105 Bratislava

As a complementary program to the presentation of Saodat Ismailova's film Her Right, at tranzit sk's study room, we are screening her feature film 40 Days of Silence (2014, 88 mins). The film unites four generations of women around the vow of silence, an ancestral Central Asian ritual created to cope with traumatic experience. The main character, a young girl named Bibicha, retreats to her grandmother's house in rural Tajikistan, where she commits to silence and shares space with her divorced aunt, who has returned from the city, and her illegitimate daughter. While the reason for Bibicha's retreat remains obscured, an almost tangible sense of pain hangs over the four women. Without having a linear narrative, the film slowly makes its way through a concatenation of moods, sensations, sounds, and rhythms, while the psychological states of the protagonists are portrayed in connection with images of nature. Men are not physically present, yet the heavy burden of the patriarchal society penetrates the entire film. Although the past and present effects of gender inequality are not compensated for by the promise of a brighter future, the film hints at the possibility of healing by engaging in this ancient ritual from which women can emerge stronger.

An online discussion between Saodat Ismailova and Alessandra Pomarico will take place on May 11, 2023 at 6 p.m.

Review of the 68th Edinburgh Film Festival, 2014 here.
Saodat Ismailova was born in 1981 in Uzbekistan. She lives and works in Tashkent and Paris, and belongs to the generation of artists from Central Asia who came of age in the post-Soviet era. Her work circles around practices of mourning and ancestrality by foregrounding matriarchal narratives and stories about the loss of worlds. Her films and video installations have been presented at the Biennale of Venice, the Berlinale International Film Festival, the Rotterdam International Film Festival, CPH DOX, Center Pompidou, Paris, Festivaldesart, Brussels, Parasite, Hong Kong etc. In 2022 she Ismailova participated at the Venice Biennale and documenta 15, Kassel. Her recent solo exhibitions include Double horizon at Le Fresnoy – Studio national des arts contemporains, Tourcoing and 18,000 Worlds at the Eye Film Museum, Amsterdam (2023). Ismailova's works can be found in the collections of the Stedelijk Museum, Amsterdam and the Centre Pompidou, Paris. In 2021 she established the Davra research group in Tashkent dedicated to studying, documenting, and disseminating Central Asian culture and knowledge.

.....

ERSTE Foundation is the main partner of tranzit.

Media partners: Artalk.sk, Flash Art CZ & SK, Kapitál, GoOut.net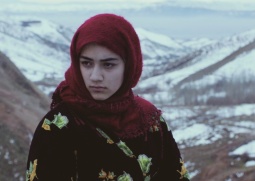 Printscreen from the movie 40 Days of Silence
Related
Making the Invisible Visible
Saodat Ismailova: Her Right