30/07/2020
Finissage of the Exhibition Ecologies of the Ghost Landscapes
An evening dedicated to forests, rewilding, capercaillie, the border between the common and the private and exhibited works on the occasion of the finissage of the exhibition Ecologies of the Ghost Landscapes. The Word for World is Forest curated by Borbála Soós.

6:00 p.m. Online tour of the exhibition with curator Bori Soós and exhibiting artist Oto Hudec

6:30 p.m. Martin Mikoláš: The Rewilding of Territories (lecture and discussion)

The following two significant events in terms of forest protection in Slovakia have recently taken place:
- The release of the EU 2030 Biodiversity Strategy which requires that all primary and old-growth forests and 10 % of all forests in the EU be strictly protected.
- The decision of the European Commission to refer Slovakia to the Court of Justice of the EU because of its insufficient protection of its mountain forests which is the habitat of the endangered Capercaillie (Tetrao urogallus) species.

In the context of these events we will hold a lecture followed by a discussion on the significance of allowing forests to undergo self-development processes (forest rewilding), and on the the significance of natural disturbances (wind, the spruce bark beetle) for the functioning of forest ecosystems. I will try to show the importance of rewilding from the perspective of biodiversity and carbon sequestration, as well as the impact of the current management on forest functions, including logging in protected sites.


Martin Mikoláš is a scientific worker at the Department of Forest Ecology of the Faculty of Forestry and Wood Sciences of CULS Prague. Since 2011 he has been a member of the international scientific team which has created an extensive network of research areas in primary forests of Central and South-Eastern Europe. He is the co-founder and executive director of the PRALES civic society which supports the protection of old-growth forests.
8:00 p.m. Jonáš Gruska: Plot / Fence (sound installation / performance, Jelenia 12)

The goal of this temporary sound installation / performance is to study the symbolism of the fence from various perspectives: as the border between the common and the private, as a means of communication with the surroundings and in this case as a barrier protecting the civilized street from the wild growth of a vacant lot.

I grew up with this fence; it's been there for most of my life and dares penetration. An apartment building used to stand there, but since it was taken down ("only") blackberries grow.

From time to time it is damaged by strong winds and then one of its parts squeaks and bangs – as if the elements have turned it into a musical instrument. This is the how I see it in my installation.


ERSTE Foundation is main partner of tranzit. Supported using public funding by Slovak Arts Council.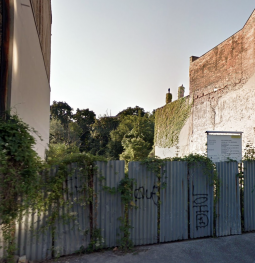 Photo credits: Jonáš Gruska
Related
Ecologies of the Ghost Landscape