15/07/2020
Old Lido
Walking tour with architectural theoretician Peter Szalay
Meeting point: Starý most, right side of the Danube river, public transports stop, 6 p.m.. Event will be held in Slovak language.

Lido is the territory on the right bank of the Danube between the Old Bridge and Apollo Bridge and beyond to the Prístavný – Port Bridge. Surprisingly, it has maintained its non-commercial character and thus is a space for low-cost and low-threshold urban recreation as well as a terrain vague providing shelter for many plants, animals, precious alluvial ecosystems, the socially weaker inhabitants of the city, gardeners, water sports clubs and the general public.

One of the largest investment and development projects entitled Nové (New) Lido, the aim of which is to expand the city center to the Petržalka side of the Danube, is currently in the preparation phase. Although the efforts of developers J&T and HB Reavis emphasize the creation of public spaces, in the mind of the private investor the general public does not refer to citizens, but rather to customers (of the planned cafes, tourist attractions, etc.). If you go to the developer's website you will find the following statement: "You cross the bridge: on one side there is a parking lot and on the other side, nothing."

We would like to invite you to the first of a series of walking tours and interventions which will map this "NOTHING" from various perspectives and point out its wealth and significance. Architectural theoretician Peter Szalay will present the history of the site from the mid-18th century to the present. He will talk about the origin of the famous Lido swimming pool, docks, sports stadiums, as well as the construction of the Petržalka residential area, the Gabčíkovo dam, including its problematic and devastating consequences for alluvial ecosystems, and the utopian project entitled Istroport by the VAL group.
The walking tour is part of a wider cycle entitled Urban Imagination Seminar which will consist of a thematic blog and interventions at Lido. It will include contributions from art theoretician T.J. Demos, environmental law expert Vojtěch Vomáčka, environmentalist and activist Mikuláš Huba, OZ (Civic Association) Vagus, environmental parasitologist Ingrid Papajová, landscape geographer Jan Albert Šturma, artist Myriel Milicević, landscape architects from the group Scuola del terzo Luogo, students of Architecture Studio II at the Academy of Fine Arts and Design (leading pedagogue Vít Halada, Benjamin Bradňanský) and others.

ERSTE Foundation is main partner of tranzit. Supported using public funding by Slovak Arts Council and Nadácia mesta Bratislavy.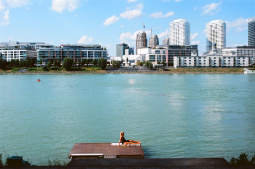 Photo: Andrea Kalinová
Related
URBAN IMAGINATION SEMINAR