01/02/2019
Queer Experimental Film Night
experimental film screening and lecture
February 1, 2019 at 7:30 pm
Kino Lumière, Špitálska 4, Bratislava, auditorium K2

films by:
Katrina Daschner, Ana Hoffner,
Ashley Hans Scheirl & Jewels Parker & Ursula Pürrer, Sabine Schwaighofer, Nana Swiczinsky

lecture by:
Andrea B. Braidt

curator:
Christiane Erharter


The event will be conducted in English.




ERSTE Foundation is main partner of tranzit.

The event series has been supported by the Austrian Cultural Forum.

The Queer Stories exhibition has been also supported by the Grant Scheme of Bratislava Self-Governing Region.

Media partner of the project: QYS magazine; collaboration: NOMANTINELS Theater.
The Queer Experimental Film Night accompanies the Queer Stories exhibition. It will be opened with an introduction about Queer Cinema by Andrea B. Braidt, film scholar, vice-rector for art and research at the Academy of Fine Arts Vienna followed by the screening of the experimental short films Super-8 Girl Games (1985, Ursula Pürrer, Ashely Hans Scheirl), Summer of 95 (1995, Jewels Parker, Ashlex Hans Scheirl) Lezzieflick (2008, Nana Swiczinsky) Self-Portraits (2018, Sabine Schwaighofer), Eh Rachel (2018, Ana Hoffner), and Peacock Hole (2018, Katrina Daschner). The screening will be followed by a round table with the film makers and Andrea B. Braidt.

Queer goes beyond LGBTIQ+ identities; it challenges and questions personal or assigned identities, and in doing so, it challenges power relations and addresses post-colonial questions, discriminatory and (pornographic) sexual politics. The new activist forces together with radical thinking of gender and sex proved to be a fertile ground for artistic production. For example, a whole new cinematic practice, the New Queer Cinema, hit movie screens all over the world, narrating stories of non-hetero-normative existence. The programme presents six short experimental films that deal with subjects and subjectivities that have evolved within the queer context. They do not focus on the coming-out scenario as the problem that kicks-off the narrative, but rather use queer subjectivity as a canvas to unfold lives and worlds which are intended to make sense for those in the know – not for those who need explanations. They all share a sense of telling their tales differently in the sense that these works deal with the way stories are told and show how to establish a radical way of construing new narratives. This is important and crucial, as new ways of thinking about gender need new ways of telling the stories that focus on the people who live in newly gendered contexts. The endeavour of this presentation is to show work around a specific dimension of queer art practice ("telling stories").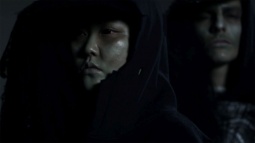 Peacock Hole, Katrina Daschner, 2018. photo: sixpack films.
Related
Queer Stories


Downloads
queer_experimental_film_nigh.pdf (pdf, 26 kb)