18/12/2017
Nadikhuno Muzeumos Cinema
film screening
Monday, December 18, 2017 at 7pm
Riva bar
Rázusovo nábrežie, Bratislava


What do young Roma rappers think about the future of Roma culture? And what is the day to day reality of the active struggle for emancipation through sports? The film screening is a part of the exhibition Nadikhuno muzeumos (Neviditeľné múzeum / Invisible museum) at tranzit/sk, which is a proposal for a museum of Roma culture to be established. It also presents the work of several artists who reflect on Roma history and cultural production and problematize stereotypes. The screening will be opened by Oto Hudec, the author of the exhibition concept.


The event is organized by tranzit/sk. The screening is a collaboration project with kinedok and RIVA bar.
ERSTE Foundation is main partner of tranzit.
The exhibition Nadikhuno muzeumos is collaboration project between tranzit.sk, Goethe Institut Bratislava and collective Spolka.
Trmice & De La Negra
author: Oto Hudec
2017, 13 min, Czech with English subtitles

This short film by visual artist Oto Hudec was created for the exhibition and the art project of the same name and which presents the idea of a museum dedicated to history and traditional forms of culture as well as current expressions and the political and social situation of Roma. The film provides a view of the Různobarevný festival Trmice and a video interview with Czech rappers from the group De La Negra about their music, the motivation to create and in general about traditional and current Roma culture. "Our first concerts were blockades against Nazis. When they had a march, we carried out an action and we started to rap anti-racist texts. And that's how we started. That is how we got noticed as cool rappers; you could say that we're kind of fighters. We don't fight with our fists, but with our mouths, and actively!"

FC Roma
directed by: Rozálie Kohoutová, Tomáš Bojar
2016, 76 min, Czech

Last year an unusual football club started playing in the lowest Czech football league - the club is composed mainly of Romani players. Even if every football fan knows the UEFA campaign Say No To Racism, there are still places where not all the players are considered equal on the football field. As the Roma minority is highly unpopular in the Czech Republic, players of other teams from the league refused to play with the Roma team – FC Roma has been winning most of the matches by default. (kinedok)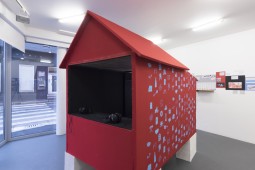 Oto Hudec, Reflections About a Museum, 2017. Courtesy the artist and Gandy Gallery.
Related
Nadikhuno muzeumos