15/12/2022
Anna Grusková: Ten Deer. Stories from the Bratislava Railway Station Neighborhood
Reading from the manuscript of the upcoming book
December 15, 2022, 6 pm, tranzit

Event will be held in Slovak

"In the second half of the 1980s, when we moved to Jelenia Street in Bratislava, our neighborhood was slated for demolition. The State wanted to build a subway and most of the quarter would have to make way for the plan. For more than twenty years, everything was left to its own fate. It was a world where time stood still. Nevertheless, its residents were constantly on the move and created quite an inspiring mixture. This included the original inhabitants, older men and women with hard lives who remembered the fascist Slovak State and the advent of the communists. Their revolving-door neighbors were usually uprooted people: Roma, outsiders of various kinds who were naturally fond of this place for its closeness to the anonymity of the train station with its great circulation of people. They brought with themselves petit crime as well as carpe diem art, and a turbulent and unrestrained life marked at times by a lack of freedom..."

You are cordially invited to a more-than-neighbourhood gathering after the reading and discussion. We'll prepare some home-made food, you are welcome to bring yours. Let's share some delicious food together!
Anna Grusková (1962) a Slovak film, theatre and radio autor and director and curator, graduated from the Theatre and Film Department of the Faculty of Philosophy, Charles University in Prague. She has led a number of domestic and international art projects (America, Bride, Sarcophaguses and ATMs, The Theatrical World 1839-1939 etc.), and has been involved in others as an author (Donaudrama, Chance '89). Her play The Woman Rabbi was staged at the Slovak National Theatre. In June 2022, she published her book A Quiet Stay at Gwerková-Göllnerová Street. She was also the screenwriter and director of the documentary films The Woman Rabbi (2012), Return to a Burning House (2014), Professional Foreigner (2016), Sad Languages (2018), and Life for Theatre (2020). Her latest film (Woman for the New Age, 2022). is about Alžbeta Gwerková- Göllnerová, a pioneer for women's rights in Slovakia.

ERSTE Foundation is main partner of tranzit.

Media partners:
Artalk.sk, Flash Art CZ & SK, GoOut.net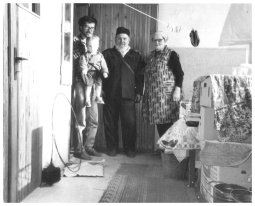 Family photo with a neighbor and a Chimney-sweap, beginning of the 90es, © Anna Grusková