04/12/–05/12/2017
Funding the Cooperative City: Community Finance and the Economy of Civic Spaces
lecture and workshop
by LEVENTE POLYAK

Lecture
Date:
4.12. 2017, 17:00
Venue:
Faculty of Architecture STU Bratislava,
Námestie slobody 19, Bratislava, room nr. 117


Workshop
for students of architecture and related disciplines
Date:
5.12. 2017, 10:00 – 16:00

Workshop Schedule
10.00 Introduction
10.30 Organising communities
12.00 Lunch
13.00 Working with institutions
14.30 Accessing Capital
16.00 Closing

Participation is free of charge. To participate, please register at nina.bartosova@stuba.sk by December 3th! 

The events will be conducted in English.


Levente Polyak is urban planner, researcher, community advocate and policy adviser. After studying architecture at Budapest University of Technology, urbanism at the Institut d'Urbanisme de Paris and sociology at ELTE Budapest, and EHESS Paris, he was visiting lecturer at the Moholy-Nagy University of Art and Design, the Budapest University of Technology and TU Wien. He was visiting fellow at Columbia University and the École nationale supérieure d'architecture Paris-Malaquais and holds a PhD in Sociology from the Central European University. He has worked on urban regeneration projects for the New York Department of City Planning, the Délégation à la Politique de la Ville et à l'Intégration in Paris, and the Assessorato della Rigenerazione Urbana in Rome. He is editor of Cooperative City, co-founder of Eutropian Research & Action (Vienna-Rome) and member of the KÉK - Hungarian Contemporary Architecture Centre (Budapest). In Budapest, he was leading KÉK's Lakatlan programme to help NGOs and social enterprises access space and economic sustainability, and in Rome he initiated the URBACT network Temporary Use as a Tool for Urban Regeneration. His recent books include Vacant City: Experiments in Inclusive Urban Regeneration (2015), Civil Város: Lakatlan ingatlanok a közösségek szolgálatában (2016) and Funding the Cooperative City: Community Finance and the Economy of Civic Spaces (2017).

http://polyaklevente.net/
http://eutropian.org/
https://cooperativecity.org/
In recent years, cultural, social, community and educational spaces have become laboratories of new forms of living, working, learning and collective exchange. However, these civic spaces face many difficulties in establishing stable economic structures, or lack financial buffers to secure their long-term operations and relative autonomy.

While in many countries, the recent economic recession culminated in a devastating foreclosure crisis, the corresponding escalation of non-residential property vacancy created possibilities in many European cities for alternative models of user-generated, community-led urban development processes, often through the adaptive reuse of empty buildings, spaces or land. In cities where a strong alliance of various actors created the right conditions and assurances, long-lasting structures and opportunities were created. In others, user-generated regeneration projects were instrumentalized and incorporated in institutional or for-profit development processes. Yet in others, in the absence of credible public actors, the non-profit private and civic sectors became guardians of public values, functions and services.

However, while the real estate market's return to "normal" endangered many civic spaces, many of them were equipped with tools and skills that enabled them to take the next step towards stability. Seeking to consolidate their presence in the regenerated spaces, many initiatives are increasingly looking into the power of the local community, the dispersed crowd and new financial actors to invest in their activities. In some cases, shared and cooperative ownership structures exclude the possibility of real estate speculation, in others, new welfare services are integrated in local economic tissues, relying on unused resources and capacities. The new cooperative development processes also witnessed the emergence of new types of investors, operating along principles of ethics or sustainability, or working on moving properties off the market.

The presentation explores how a variety of actors, practices, models, mechanisms and opinions have adapted to the changing socio-economic context and experimented with new financial and economic models for civic spaces by accessing community capital, keeping profits in neighbourhoods and ensuring spaces against public oppression or the extraction economy.

A collaboration project between tranzit.sk and Faculty of Architecture STU Bratislava.

ERSTE Foundation is main partner of tranzit.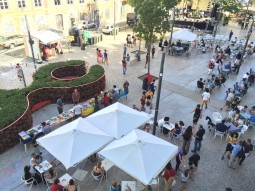 Bairro Intendente Festival, Largo Residências, Lisbon, 2017
Photo: Levente Polyák