10/08/2021
Entomologic Lido
commented tour with with Marek Semelbauer
10 August 2021, 5 pm

Meeting point in front of Mýtny domček (Toll House) on Starý most (The Old Bridge) in Petržalka.

This tour will focus on pollinators, even the unconventional ones. Disturbed and spontaneously overgrowing sites are a valuable refuge for many interesting insect species, particularly solitary bees, bumblebees, as well as butterflies, grasshoppers and beetles. We will walk through various insect biotopes starting with meadows with solitary trees in forgotten parts of Lido up to the alluvial forest that runs along the banks of the Danube. We will also learn about the lifestyles of well-known insect species, and about what their incidence tells us about the socio-ecological potential of the Lido territory.

Hiking clothing, sturdy shoes and a repellent are recommended.
Mgr. Marek Semelbauer, PhD. Is a researcher at the Institute of Zoology of the Slovak Academy of Sciences in Bratislava. He studies faunistics, Diptera morphology and ecology and has spent many years working on various environmental topics, in particular, the conservation of non-forest biotopes.

This event will be held in Slovak. It is part of the Urban Imagination Seminar, which focuses on issues related to the rights of the city in the time of climate crisis in the context of the Bratislava Lido and its intended transformation.

ERSTE Foundation is main partner of tranzit. Supported using public funding by Slovak Arts Council and Nadácia mesta Bratislavy.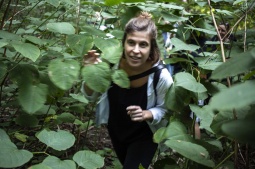 Photo: Andrea Kalinová
Related
URBAN IMAGINATION SEMINAR