05/03/2019
Eduard Freudmann: Monuments and Interventions. Reconfiguring Historical-political Manifestations
lecture
Date: March 5, 2019, 6 pm

Venue: tranzit.sk, Beskydská 12, Bratislava


The event will be conducted in English.


ERSTE Foundation is main partner of tranzit.

The project has been supported by the Austrian Cultural Forum.


The artist is a guest of tranzit.sk from February 8 to March 8, 2019. He was invited to Bratislava to participate in Central & East Europe Calling project.
Central & East Europe Calling is co-organized by < rotor > center for contemporary art in Graz and the Directorate General for Culture of the Austrian Federal Ministry for Europe, Integration and Foreign Affairs.
As historical-political manifestations in public spaces, monuments are declared sacrosanct and regarded as untouchable, unchangeable. However, that approach is not carved in stone. Monuments can also be understood as places of discursive, active, and critical confrontations with the past that can and should be reinterpreted and reconfigured. Eduard Freudmann will present three projects that aim to enable monuments to challenge their own fate, which the Austrian author Robert Musil described so accurately in his famous dictum that there is nothing more invisible than a monument.
Weinheber ausgehoben – Unearthing a Nazi Poet was an intervention in public space by Plattform Geschichtspolitik in 2013. It dealt with a memorial to Austrian poet and Nazi Josef Weinheber (1892-1945) which stands in Vienna's city centre. The intervention was organized to expose the monument's conflicted history.
In 2015 The Monument May Be A Forest by Gabu Heindl and Eduard Freudmann was the winner of a competition to erect a monument in Warsaw dedicated to Poles who saved Jews during the Shoah. The monument has not begun to realize due to a series of controversies. The winning proposal regarded these controversies not as a bitter pill to be swallowed, but as a unique asset that should be incorporated into the monument.
The project "What they neglected, we did", which consisted of a performance and intervention in public space by Zsuzsi Flohr, Benjy Fox-Rosen, Eduard Freudmann, Eva Reinold, Luisa Ziaja in 2015, linked the elements of ritual, discourse and intervention in a performative setting. It comprised a panel discussion, a choir, an actress and a crew of workers who illegally erected a monument dedicated to the people who illegally erected a monument at the location of Vienna's former Gestapo headquarters in 1951.

Eduard Freudmann lives and works in Vienna. He teaches Transdisciplinary Art at the Academy of Fine Arts Vienna. As an artist, he develops projects with a focus on performativity and public space. His approach is characterized by transdisciplinary work, artistic research and critical discourse. He always strives to relate contemporary aesthetics with political analysis and, above all, to encourage a critical public. Freudmann is the winner of the controversial memorial competition From Those You Saved in Warsaw in 2015. His most recent performance, The White Elephant Archive, Setting No. 3, toured the United States in 2018.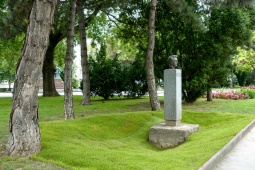 Plattform Geschichtspolitik - Unearthing a Nazi Poet, 2013
Performance and intervention in public space
Photo: Tal Adler
Downloads
freudmann_poster.pdf (pdf, 375 kb)