18/01/2017
Amateur Courses and Creativity Exercises
Guided tour and discussion with László Beke, Ľubomír Ďurček and Květa Fulierová
Date: January 18, 2017, 5-7 pm
Venue: tranzit.sk, Beskydská 12, 81105 Bratislava

Participants: László Beke, Ľubomír Ďurček, Petra Feriancová, Květa Fulierová, Zsuzsa László

The event will be conducted in Slovak and English with interpreting.

In connection with the Sitting Together exhibition, the theme of amateur art and creativity, which were both keywords of fluxus and endorsed by the socialist movement of people's education, will be discussed by László Beke, Ľubomír Ďurček and Květa Fulierová in a conversation with Petra Feriancová and Zsuzsa László.

The current exhibition at tranzit/sk focuses on the 1970s, the period of Normalization in which the phenomenon of parallel culture evolved as the only possible sphere for critical and autonomous thinking ostensibly detached from political action. Sitting Together evokes events and juxtaposes documents from the Czechoslovak, Hungarian, Polish and Yugoslavian art scenes determined by different versions of state-socialism and capitalism, the changing political control of art events and the shifting distinction between mainstream and parallel culture.

The accompanying event begins with a guided tour and is followed by a discussion of the educational activities of neo-avant-garde artists on the basis of documents from the archives of Kveta Fulierová, Ľubomír Ďurček and László Beke. We will discuss performative teaching methodologies introduced by artist pedagogues and the question of whether to interpret "educational art" as an appropriation or tactical utilisation of the socialist state's cultural institutions or as the achievement of a utopian pedagogical idea on the democratisation of arts. Creativity Exercises – an amateur course led by Dóra Maurer and Miklós Erdély between 1975-77, as well as assignments and games developed by László Beke will also be revisited by the participants of the event.
Květoslava Fulierová (1932) is a Slovak graphic artist. She was the partner and collaborator with Július Koller (1939-2007), revered as one of the main protagonists of conceptual art in Slovakia. Since the 60s, Fulierová has built a fascinating archive of art and everyday events mostly composed of photos she made herself. She also has rich photo-documentation of Koller's participation in amateur courses and summer camps from 1968 to 1992.

László Beke (1944) is an art historian and curator who has been a seminal figure in Hungarian art since the late 1960s. An important contributor to the development of the neo-avant-garde and conceptual art in Hungary, he has written important articles about the theory and practice of photography, performance, the underground, dada, fluxus, futurology, visual culture, and creativity. As a result of his exceptionally active involvement in the Hungarian and international art scenes, he has accumulated an invaluable archive of documents and works. Acting as an "unknown artist" he initiated several significant collective projects and events such as Imagination (1971), the Meeting of Czech, Slovak, and Hungarian Artists (1972) and numerous important exhibitions featuring the work of Jan Mlcoch, Petr Stembera (1975), Ken Friedman (1975), Robert Filliou (1976), and Stano Filko, Miloš Laky and Ján Zavarský (1977) at the Budapest Club of Young Artists.

Ľubomír Ďurček (1948) is a conceptual artist, performer, documentarist, an author of experimental texts, books and films. For most of his life he has been a secondary school teacher. In 1977 in collaboration with Peter Bartoš he organised an exhibition of photographs by Czech and Slovak action – and concept-oriented artists, named Photorecords. At the turn of the 1970s he worked with the Labyrinth Theatre and with the Temporary Society for Intense Experiences around Ján
Budaj. After 1989 Ďurček held his first independent exhibitions (Považská Gallery, Žilina, 1992, Bratislava City Gallery, 2003). His most comprehesive exhibition was Situačné modely komunikácie (Slovak National Gallery, Bratislava, 2013). Ďurček has also presented his art at several international exhibitions: Works and Words (de Appel, Amsterdam, 1979); Body and the East (Moderna Galerija, Lubljana, 1998); Navzájem. Společenství 70.–80. Let/Mutually. Communities of the 1970s and 1980s (Tranzitdisplay, Prague, Brno House of Arts, Brno, 2013).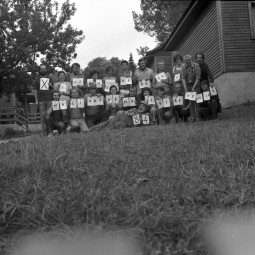 Ľubomír Ďurček: Group action at the summer workshop of amateaur painters, 1984 (Photo: Ľubomir Ďurček)