26/02/2016
Jonas Staal : The Architecture of Revolution
Lecture
February 26, 2016 at 5 pm
Faculty of Architecture, STU, Námestie slobody 19, 812 45 Bratislava
Room nr. 117

A collaboration project between tranzit.sk and Faculty of Architecture STU Bratislava.

Over the past ten years, artist Jonas Staal has been interested in the relation between art, democracy and propaganda. He has organized exhibitions with artworks from the private collections of political parties in the Netherlands; developed an analysis of a prison design by the Dutch ultranationalist MP Fleur Agema; and a free smartphone application providing an ideological analysis of every pavilion in the 2013 Venice Biennial. As such, Staal has attempted to make visible the political and ideological investments that are made into contemporary art and architecture. Propaganda, the artist claims, is not contradictory to modern capitalist-democracy: art continues to serve, in many different ways, the dominant interests of power.

In line with this analysis, the artist has also attempted to initiate, through the space of art, new platforms for emancipatory politics. He has created international assemblies for artists and politicians, and developed alternative platforms for stateless and liberation movements from all over the world. By engaging directly with social movements, progressive political parties and resistance movements, Staal attempts to engage the imagination of art in furthering political crises and struggles. He regards these projects as a form of counter or "emancipatory propaganda."

In his lecture The Architecture of Revolution, Staal will discuss some of his key works from the past ten years. Within the term architecture he refers to both the "ideological architecture" underlying art production, and also the practice of architecture, which has become more and more prominent in his work. This has been illustrated most lately in the form of a new public parliament he was commissioned to develop for the autonomous Democratic Self-Administration of Rojava, a new non-state entity in the northern part of Syria, declared independent in 2012.
Jonas Staal (1981) is the founder of the artistic and political organization New World Summit that develops alternative parliaments for stateless organizations banned from democratic discourse and, together with BAK, basis voor actuele kunst, Utrecht, of the New World Academy, which connects stateless political organizations to artists and students. He is also the co-initiator, with Carolien Gehrels and Hans van Houwelingen, of the Allegories project (2011-ongoing) that organizes debates and collaborations between artists and progressive political organizations, as well as of the Artist Organizations International platform (2015-ongoing), with Florian Malzacher and Joanna Warsza), which connects artist-led organizations by means of conferences and international exchanges.

His work includes interventions in public space, exhibitions, lectures, and publications, focusing on the relationship between art, politics and ideology. He regularly publishes in books, newspapers and magazines – his written work has appeared in e-flux journal, Manifesta journal, Frakcija magazine, Metropolis M, nY, NRC Handelsblad and de Groene Amsterdammer.

The first overview of the New World Summit was exhibited in Moderna Galerija, Ljubljana SL (Art of the Stateless State, 2015) and the first overview of the New World Academy in Centraal Museum Utrecht NL (New World Academy, 2015). Staal's projects were further exhibited in the Van Abbemuseum in Eindhoven NL (Trickster's Tricked, 2010; Freethinkers' Space Continued, 2012); the David Roberts Art Foundation in London UK (History of Art, 2010); Extra City Kunsthal Antwerpen BE (1:1, 2011; Allegory of the Cave Painting, 2014); Kadist Art Foundation in Paris FR (Enacting Populism, 2011); Lunds Konsthall, Lund SE (Don't Embarrass the Bureau, 2014); Museum for Contemporary Art Belgrade (Invisible Violence, 2014); BAK, Utrecht NL (How Much Fascism?, 2012; New World Academy, 2013; New World Embassy, 2014); de Appel, Amsterdam NL (Vote Back!, 2012); the 7th Berlin Biennale in Berlin DE (2012), the 1st Kochi-Muziris Biennial in Kochi IN (2013) and the 31st São Paulo Biennale in São Paulo BR (2014).

Staal lives and works in Rotterdam.

http://www.jonasstaal.nl
http://www.newworldsummit.org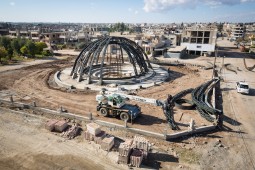 Democratic Self-Administration of Rojava and the New World Summit
New World Summit – Rojava, 2015 - 2016
Photo: Ruben Hamelink